There is no denying that Moms are incredibly special. And you should let her know how important she is for you. No doubt, you already show your appreciation to her more than once a year –in the form of hugs, dinners, doing the laundry and dishes, etc.– But when it comes to Mother's Day, you should put your best efforts to find the ideal gift for her.  Mother's Day jewelry is a gift she will cherish for life. After all, it's the annual day to show gratitude to the women who have been there for you from the very beginning. Now, consider it an excuse to lavish her with special gifts and lots of love.
Mothers always like all the gifts given by her kids no matter it's a flower bouquet or Mother's Day card. But the thing that she secretly wants is jewelry! Either you are looking for a thoughtful present for your Mom or Mother of your kids. A beautiful pendant or sparkling earrings can help you to express your true emotions for her. At Renaissance Jewelers, you can find a range of fine jewelry from Mother's Day rings to stylish bracelets. You can easily get a piece that matches your Moms' style. But don't forget to snap them up before Sunday, May 12.
Mother's Day Ring
We do not carry the traditional multiple birthstone Mother's Day rings but what Mom doesn't love rings? Perhaps a ring with her birthstone?
Rings are often linked to the engagements only. However, they can also make the best thoughtful gifts for many other occasions as well. And you can also make your Mom feel acknowledged by presenting a gorgeous classic ring. Our delicate Mother's Day Ring is just as special as your Mom. Present her with this dazzling gift as a symbol of your eternal love for that special lady.
This updated fashion ring will go with any attire she already owns. And will shine with every gesture of her hand. Also, whenever she'll look at her hand, it will remind her of your eternal love and respect for her.
Mother's Day Tennis Bracelet
A tennis bracelet is one of the amazingly beautiful pieces of jewelry that you can ever gift to someone. In fact, it is something that almost every woman dreams to own. Now it's your turn to cherish your Mother with this perfectly elegant gift at this Mother's Day.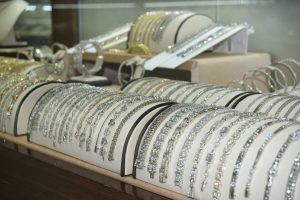 The Bracelet is named 'Tennis Bracelet' in the memory of a Women's tennis Champion Chris Evert from late 19 century. She used to wear a diamond bracelet while playing the game. She is also known to be the first athlete who played while wearing diamonds. And this fact made her bracelet famous in the later years.
Express your deepest love for your Mom by presenting her this simple yet elegant bracelet. It has a symmetry of dazzling diamonds set in sterling silver and durable enough to pass the test of time!
Emerald Mother's Day Jewelry
Emeralds are among the top four globally recognized precious stones. They carry a refined sense of beauty and style. With the bright green color of spring, emerald jewelry can be the most perfect gift for your Mother. Also, this sparkly stone is considered as a symbol of love and beauty. Nothing can beat its dazzling charm when it comes to gift jewelry to your Mum. And Emeralds are the birthstones of May.
Renaissance Jewelers have one of the greatest collections of Jewelry made from this brilliant stone. And you can easily find a unique emerald bracelet or earrings for this Mother's Day.

Pearl Mother's Day Jewelry

You can never go wrong by choosing pearl jewelry for your mother. This is because pearls are such timeless items that never go out of style. Also, no other gift can be considered as more classic as pearl jewelry. Bright pearls also symbolize love and purity and are perfect gift for Mothers. And you can easily make her realize your love by presenting a pearl necklace or pearl Bracelet.  She will definitely treasure this priceless gift for the rest of her life!
Renaissance Jewelers will Ship Mother's Day Jewelry
If you can't make it into the store to pick out your perfect Mother's Day gift simply give us a call.  We will work with you to get the the best Mother's Day gift shipped to you.  Be sure to let us know you found us on the web for a free gift.