Larimar is a rare and semi-precious gemstone that can only be found in the Caribbean. The Jewelry made of larimar is not only attractive and unique but also contains some healing properties. That is why no other gemstone can compare to the color variations and metaphysical properties this stone has to offer. So, buying a larimar pendant or larimar ring is a must, upon your next visit to St. Thomas. Renaissance Jewelers is also a trusted jewelry store where you can find an amazing variety of jewelry made of larimar.
Larimar is the Jewel of the Caribbean
Larimar, also known as Jewel of The Caribbean is a beautiful pectolite gemstone discovered in 1916 in the Dominican Republic. Right now, there is only one mine of larimar in the Dominican Republic which makes this piece of nature extremely rare. However, you can find the Jewelry made of this stone throughout the Caribbean. Also, it's one of the local specialties here in St. Thomas.
It a fact that things which are not found in abundance naturally becomes attractive to us. But in case of larimar, rareness is just one of the many qualities that this Caribbean gem has to offer. Starting from the color, this beautiful gemstone has many variations of blue including pale blue, white, sky blue and green-blue. These unique colors resemble the colors of the Caribbean sky and also the shallow waters of the sea. That's why the cruise visitors in St. Thomas love to buy jewelry made of Larimar. Because they know that they cannot find this unique volcanic coloration of pectolite elsewhere in the world.

Larimar Jewelry Designs
If you are among those who like to wear soft colored yet elegant gemstones, larimar is your match. Also, it makes a great conversation piece as not everyone owns this enchanting jewel.
Unlike other gemstones which are confined to a few particular shapes, larimar can be used into a variety of settings. You can get lovely pendants, rings, earring and necklaces made of larimar in all shapes and designs.
The famous metals used to make larimar jewelry are platinum and silver. Because they help to enhance the aqua blue color of the stone. Such type of jewelry also looks great with casual attire. However, if you want a more high-end look, try buying larimar in gold. And this gorgeous setting will surely update your appearance to a more charming one!

Healing Properties of Larimar
It's not only the aesthetics that make larimar a favorite stone of millions. But the stone also has a rich history of many legends regarding its metaphysical properties. There is a common belief larimar is a gemstone that reduces the pain and stress level and restores positive energy.
So, when wearing a larimar pendant, larimar-ring or larimar bracelet, be sure that you are not only updating your looks. But are also getting a number of emotional and spiritual benefits from it.

Shop the Exquisite Larimar Jewelry Designs at Renaissance Jewelers in St. Thomas
Are you planning a visit to the Virgin Islands in the near future? Then don't forget to check out the exclusive larimar jewelry designs at our store located in St. Thomas. Renaissance Jewelers is a leading Jewelry Store developed 15 years ago famous for its quality jewelry products and personalized services.
We also take pride at having the greatest collection of emerald, loose diamonds, tanzanite, larimar and other precious gemstones that no other store could offer. So, if you really want to take back Jewel of the Caribbean with you. Do give us a visit and you'll be surprised to see the amazing variety of gold and silver larimar Jewelry.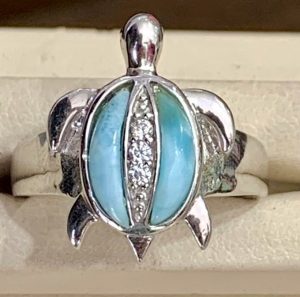 Every piece of larimar jewelry that we create offer a variety of color saturation, hues, and markings. This is due to the amazing tale of Genesis which gives this stone compelling and unique aesthetics. Meaning that your larimar pendant or larimar ring from Renaissance Jewelers will have its own uniqueness and style.
That is why our larimar rings and larimar necklaces have the power to make you stand out from the crowd!
Also, don't forget to grab your free gift from renaissance Jewelers upon your first visit to the Island.