Diamonds come in many shapes and there exists a dazzling diamond to match every girl's style. From classic round brilliant to more trendy shapes like pear, heart, radiant and marquise. You can choose the one that suits your taste and preference. Here is a brief overview of all the most popular diamond shapes along with the trending ones.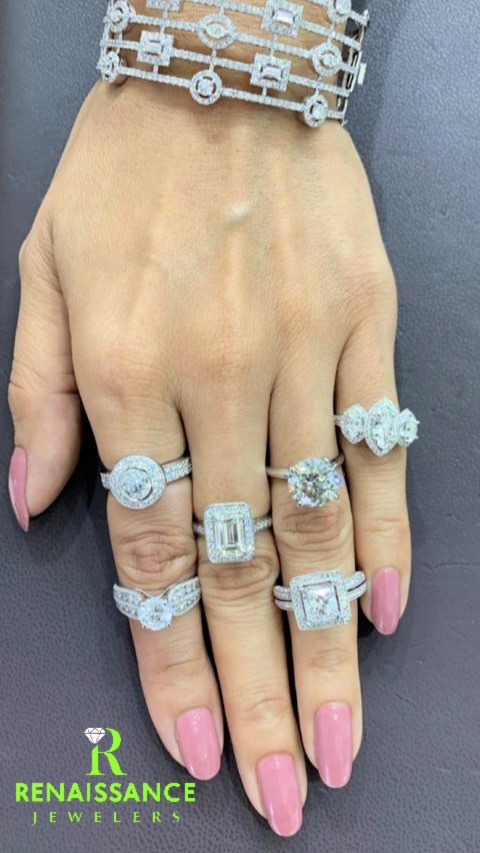 There is no denying the fact that diamonds are a woman's best friend. Because the ultimate happiness they get with diamonds is priceless. But not every diamond is for every woman. As diamonds come in many shapes and tell many different stories. And it is entirely up to you that what you chose to tell your own story. If you are thinking of proposing on St. Thomas or just want to get the ring to take back home you'll want to get a diamond that is just right for her. Or maybe you want to upgrade the love of your life's diamond.
When thinking of diamonds, the picture of a classic round diamond appears in mind. But there is something more to know about diamond shapes. No matter, brilliant round diamonds are versatile and famous. But there exist many fancy cut shapes of diamonds that add a flare of style to your jewelry. The real magic lies in the cut which allows the light to reflect differently. This also gives a unique brilliance and fire to each shape.
So, getting the right shape is important as it will reflect your own personality. Renaissance Jewelers has created a list of famous diamond shapes to help you through the buying process.
Round Diamond Brilliant – [classic, versatile]

This versatile and classic shape is most popular among all other diamond cuts. That's why it accounts for 75% of the total diamond sold today. It also has more brilliance and fire than any other shape could offer. If you are looking for the perfect gift for a lady with class, you can hardly go wrong by choosing it! A lady with a round diamond can usually be described as traditional and sincere.
Pear Diamond – [Delicate, Feminine]

It has many names including teardrop or drop-cut diamond which is created with one pointed and other round end. This unique shape is created using a mix of marquise and round cuts. The combination of two types of cuts gives it excellent symmetry and sparkle. When you wear it as a ring, it makes the fingers look slimmer. Also, best for using in a timeless pendant.
Heart Diamond – [Romantic, Sentimental]

It is the ever-romantic shape of diamond which is a remarkable symbol of love and affection. It is best for use in the solitaire setting which gives it an accentuated appearance. Its stunning and graceful look make it a good choice for engagement rings and valentine day proposals.
Emerald Cut Diamond – [Vintage- inspired, Glamorous]

This shape has step cuts in diamond's facets with a broad, flat plane on the top. This type of design creates an effect of hall-of-mirrors. Also, it highlights the original color and crystalline clarity of a diamond in a beautiful way.
Princess Cut Diamond – [Stylish, Trendy]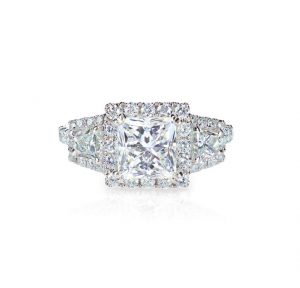 This popular fancy cut diamond made its debut in 1979. Since then, diamond cutters have been working to enhance its brilliance. It comes in both rectangular and square shapes and can be set in almost every setting. Unlike other diamonds which reflect most color in the center, princess cut also reflect unique color in its sharp edges. Thus, making it a perfect, sparkly gift for a trendy girl!
Cushion Diamond – [Classic, Elegant]

As the name suggests, the cushion cut diamond resembles a cushion shape with round corners. Available in both rectangular and square designs, the diamond allows high dispersion of light due to larger facets.
Oval Diamond – [Elongated, Modern]

This shape is also very famous and fit well in every type of setting. Commonly used in engagement rings, oval shape gives all the brilliance of a classic round shape with unique, elongated design. This also creates an illusion of a bigger diamond which makes it a nice elegant gift for your lady.
Marquise Diamond – [Elongated, Bold]

It is a football-shaped diamond with pointed ends on both sides. It's largest among all the elongated shapes and creates a flattering appearance on short fingers by making them look slender. The narrowness of this shape also makes it look like a larger diamond.
Radiant Diamond – [Dramatic, complex]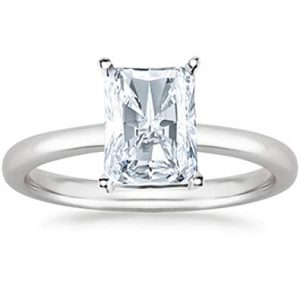 Radiant diamond comes in rectangular and square shapes with unique cropped corners. It is basically a hybrid shape which combines the emerald cut lines with round brilliant shape. This cross makes it the most dazzling diamond among all other rectangular diamonds with a fierce sparkle. I have to say after writing this article I think the radiant or emerald cuts are my top choices. Hint, hint to my current boyfriend!
Asscher Diamond – [Lustrous, Modern Vintage]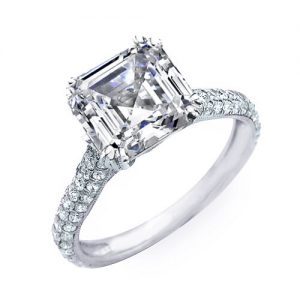 This shape is similar to emerald, but it has a square design having larger step-cuts in diamond facets. Also, the crown is higher with a smaller flat plane. All these characteristics give it more brilliance by creating fascinating optical illusion of hall-of-mirrors. Perfect for women who like vintage-inspired jewelry with a modern taste.
Trillion Diamond – [Elegant, Showy]

This triangular stone is a good choice for using both as accent stone or in solitaire setting. Although trillion cut diamonds are not as famous as the classic round ones. But if you want something unique and different from the traditional style, these diamonds are worth considering. And they really do look great with other stones like the emerald cut diamonds.
Old European Diamond – [Antique, classic]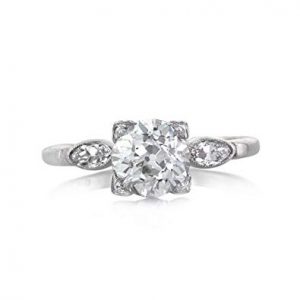 The modern brilliant cut diamonds are the modified form of old European cut diamonds. Although both are round, the shape and placement of facets give each a unique appearance. Also, the focus in old European cut diamond is on color and clarity.
How to Spot Quality Loose Diamonds in St. Thomas
You can find the complete guide including the 4 C's for buying the good quality diamonds here.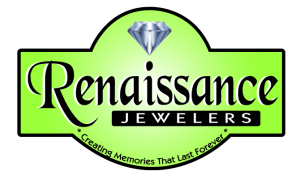 Shop our Store to Get the Right Diamond Shape!
Renaissance VI has the largest of collection of all shapes of loose diamonds in St. Thomas. We have been in industry for so long that none can beat us when it comes to quality and excellence. Visit our store on your next trip to St. Thomas to shop a stunning variety of loose diamonds, emerald jewelry, and branded watches.
Mention you found us on the web for a free jewelry gift when you visit our store.