If you have been to St Thomas you know that they are well-known for jewelry shopping. Cruise ships passengers and other tourists flock to main street in downtown St Thomas year after year to grab great deals with duty-free shopping. But where is the best place to buy jewelry in St Thomas? Well, hands-down it is Renaissance Jewelers. They have been on island for 15 years and the ONLY jeweler with a 5 star customer review rating on EVERY social media platform. Just take a look for yourself on Tripadvisor, Yelp, Facebook or Google. And they have a huge quality jewelry selection.
What Part of The Island Is The Best Area to Shop?
Charlotte Amalie is the main city near the cruise ship docks with tons of jewelry stores. From big names like Rolex and Tag Heuer to small Mom and Pop stores making St Thomas is a jewelry shopping haven. It's just one block north of the waterfront. You'll find Renaissance Jewelers by looking for their green sign on the south side of the street about halfway down.
What Make Renaissance Jewelers Unique
Besides the 5 star rating on every social media platform, Renaissance Jewelers sets themselves apart from their competition by several factors.
Huge selection. Renaissance has one of the largest selections of loose diamonds and tanzanite in the Caribbean. In addition, they have thousands of unique pieces, colored gemstones, gold, hook bracelets and so much more. They are also a reseller for Citizen watches.
The staff. You will be treated like dear friends at Renaissance. We are so proud to have returning guests year after year that continually refer us to all their friends. We have come to know some so much we have dinners and boat trips while they are visiting.
The integrity. I hate when I hear stories from shoppers on how they got ripped off. Just last week I was talking to a lady that bought a fake from a competitor. We strive to offer the very best prices on our jewelry. Many times we hear from our clients that they took their jewelry back home and had it appraised and the appraised value was higher than what they paid. We will provide you with an appraisal of your piece as well.
The store. We have a great location. Bright, cheerful and plenty of place to spread out and peruse our selections making it the best place to buy jewelry St Thomas.
The rum punch. Come in and let us get you a cold beverage while you shop. Our rum punch is almost world-renowned. We also offer beer, wine, water and sodas.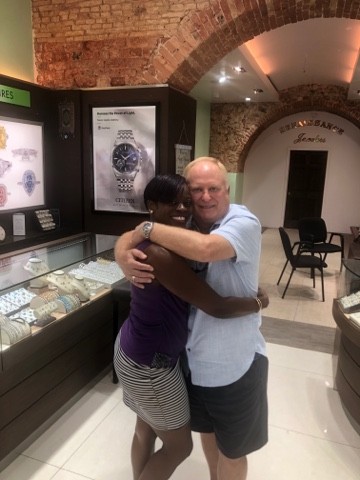 Stop in on your next trip to St Thomas. Mention you saw this post and we will give you a free gift just for stopping by!