It's been 14 long months but today cruise ships return to St Thomas!  Today the Celebrity Edge with 2918 passengers docked at Crown Bay. We are so incredibly excited to welcome all the cruise ship passengers back to our beautiful island.  And of course, we can't wait for you to come jewelry shopping!
Jewelry Shopping St Thomas
St Thomas has been a dream stop for cruise ship passengers for years.  With our sugar beaches, crystal blue water, and duty-free shopping who can blame them? And we have the best jewelry at the best prices!  We also have one of the largest collections of loose diamonds and tanzanite.  Our cruise ship customers come back year after year to shop with us and we simply cannot wait to see you again in our store. Thank you again for making us the only jewelry store in St Thomas with a 5-star rating on all social media.  Just visit our facebook page to see what our clients have to say.    Just look for the green sign and you will find us on the main jewelry street in Charlotte Amalie.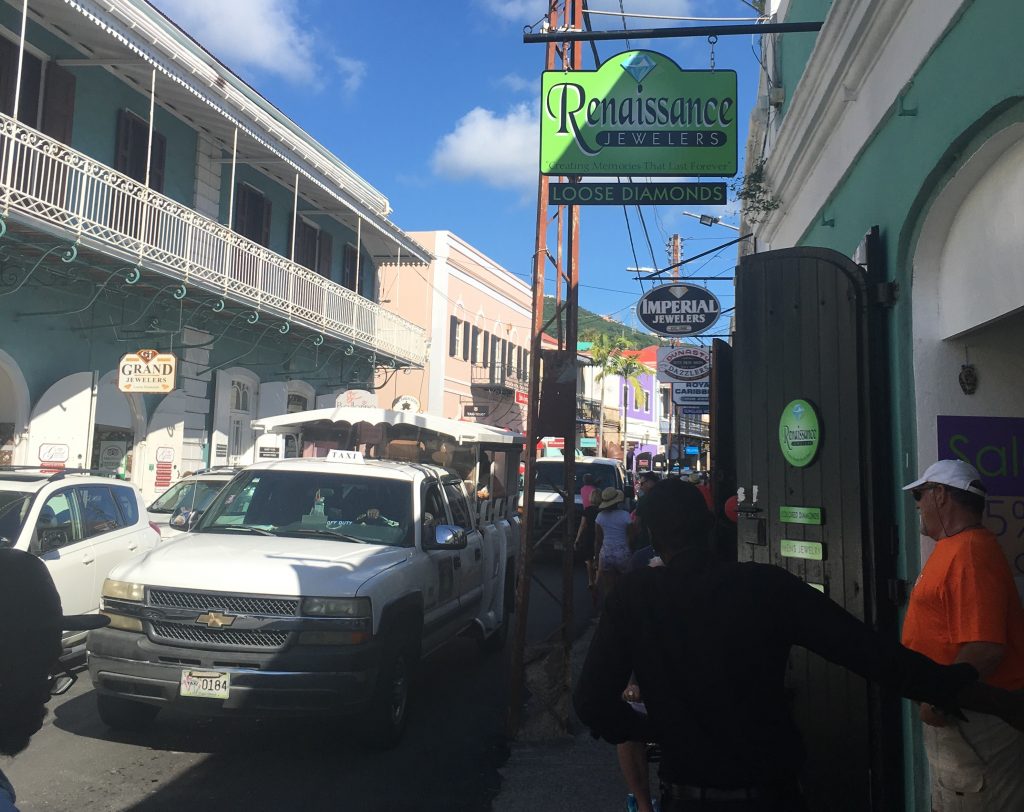 Cruise Ships Return to St Thomas
Again, we are overjoyed at the return of cruise ships to St Thomas.  Currently, it looks like just the Celebrity Edge is making port in St Thomas.  And they will be back again on July 20th.  We can't wait to start seeing Royal Caribbean, Carnival, Disney, and Norwegian Cruise Lines make their returns as well.  To see the full upcoming cruise schedule for St Thomas you can always follow this page at VINow.com.
Renaissance Jewelers
Stop in and say hello while you are here.  We will have a special gift waiting just for our cruise ship customers.  And we will have the rum punch on ice waiting!
If you can't make it in just yet, don't worry!  Remember we can still ship duty-free as well!