St Thomas is one of the world's most beautiful and sought-after cruise destinations for all the right reasons. In fact, very few vacation spots offer the wide range of recreational activities like this magical island. No matter if you are a beach goer, sun seeker, sailor or other recreational activities. St Thomas has got everything to satisfy your wanderlust. With duty-free shopping it is a mecca for shopping fanatics. But there are many stores to choose from. How do you find the best jewelry stores in St Thomas?
1. Don't Follow Cruise Ship Advice
The Islanders already know which store is expert at creating the finest quality, stunning jewelry. But for the vacationers, things could get a little twisted. Because most of them simply rely on the easy maps and guides given by their cruise ships. They think that the cruise ship management has already provided with the list of THE BEST of everything. But there is a need to know the other side of the picture as well.
In fact, all the shops and stores on cruise ship maps and guidebooks pay to get listed there. Not only this, but they also give a fraction of all the purchases made by the cruise passengers. So, what you think is best is actually not. This implies that you only get to know about the stores who paid heavily. And not the ones which are actually selling valued, quality products. The only solution to this problem is not to follow their advice. But do your own research for finding the right jewelry store for you!
2. Look at Legitimate Customer Reviews
First, look at legitimate customer reviews on sites like Yelp, Trip Advisor, Facebook and Google my Business. Businesses at the top of search results are not always the best choice for customers. Scroll down and read the reviews. For example, if you do a search on Trip Advisor unfortunately the ones at the top are not always the highest ranked. Tripadvisor offers paid placement these days. They call them sponsored placements and they go above search results.
Renaissance Jewelers Has a 5-Star Rating on all Social Media
We do not pay for any placement. This is another feature that sets us apart from our competitors. Because it's easy to tell about a product's top-notch quality but only end user can decide about the truth. In fact, their review on various platforms can tell the whole story about the truthfulness of any business. As there's a saying that words of mouth never lie. So, we invite you to view the 5-star ratings and awesome comments of our happy customers on social media channels. No matter its Facebook, Instagram or Pinterest, you'll get to know the incredible social footprint we have on these platforms. Also, you can check what our satisfied clients have to say about our timeless creations on reputable travel and tourism websites including Yelp and TripAdvisor.
This is a real-time feed from Tripadvisor.
After browsing many of the jewelry stores we found friends forever at Renaissance. Adrian and Rohan along with all of the other staff went up and beyond to make our... read more experience amazing! They were fair, patient and very accommodating. We found ourselves stopping back in several times to just say HI. They definitely made us loyal lifetime customers!!!

Burgsluvtotravel


February 14, 2020

What an amazing experience here! Rohan was a great host. My wife is beyond happy with her new necklace. Every time we go to St. Thomas, we will... read more pass by, say hi and possibly keep adding to the collection!

jccampo17


January 28, 2020
3. Brand Named Jewelry Stores
St Thomas is a jewelry heaven with a wide range of Jewelry stores at every corner. It's hard to know which one's offer the best deals. Which ones are low pressure and which ones have the best variety. Your brand named stores like Rolex, Tiffany, Tag Heuer and Little Switzerland will pretty much have the same prices they offer on the mainland but remember in St. Thomas you can get a lot of jewelry duty free so you can get a huge saving.
4. Length of Time in Business
In addition to the large brand named stores you can find very reputable jewelry stores. Another thing to look for in length of time in business. Longevity in the jewelry business shows the jeweler is trusted. To find the best jewelry stores in St Thomas you should look for thos that have been around awhile.
Renaissance Jewelers is a well-respected Jewelry store that makes its place among the top stores since 2004. For more than a decade, we have been crafting luxury jewelry for valued customers. Our love and loyalty are what that inspires us to take our craftsmanship to the heights of perfection. Here are few of the reasons why Renaissance Jewelers is the first choice if you are shopping for jewelry in St Thomas.

Family Business
No other business can provide a truly personalized experience like a family business. This is actually the beauty of family-run businesses that they strive hard to provide valued products with strong customer service. This is also our specialty at Renaissance Jewelers. For us, it's not about simply making sales and profits. Rather, it's about our customers' happiness and satisfaction. The smile that comes to their face after putting on our treasured pieces means so much to us. And we have a passion to continue bringing them happiness for many more years!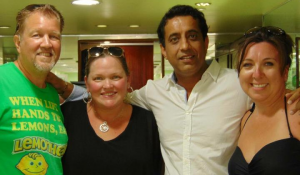 Repeat Customers
Whether it's a dreamy Heart of the ocean pendant or a dazzling engagement ring. The thing that appeals to our customers is the exceptional quality of our priceless designs with very reasonable cost. We source the precious stones from mines to create luxurious pieces by also bringing in the latest trends.
Not only this, Renaissance Jewelers is also famous for its original branded watches, loose diamonds, fascinating emeralds, and dazzling tanzanite. In fact, we've got the finest selection of precious jewelry and designer watches to create unbeatable value. This has made us favorite among shoppers by helping us to win hundreds and thousands of repeat customers. They not only visit us frequently but also refer us to their friends and family. And all the credit goes to the reputation that Renaissance Jewelers has created after years of hard work. Just check out our Facebook page and you will see our loyal following.

Largest Collection of Loose Diamonds and Tanzanite in St. Thomas
No other jewelry store can beat Renaissance Jewelers in St Thomas with their collection of diamonds and tanzanite. Renaissance Jewelers really is the best jewelry store on St Thomas. Because we have the largest collection of these luxurious gemstones among all. Not only this but we can also craft your dream jewelry by keeping the right balance between beauty and perfection! It is due to the unmatched quality of our handpicked diamonds and tanzanite jewelry that Renaissance Jewelers is a recommended and favorite among St Thomas residents.

Where to Find Renaissance Jewelers
We are in the middle of main street on the south side of the street (closer to ocean).
5175 Dronningens Gade, Ste. 2,
St.Thomas, USVI 00802
Come and visit our store to have the best, personalized experience! We will have a cold rum punch or other beverage waiting for you. Just look for the bright green sign! Mention you found us on the web for a free jewelry gift when you stop by.