With lots of duty-free shopping opportunities, St. Thomas is like a heaven for every shopaholic. After spending memorable vacations on the Island, you can also go home with lots of buys by staying in budget. Most of the cruise vacationers look for perfumes, arts and, crafts, watches, clothes and beverages upon their visit. But the item that tops this list is, of course, St. Thomas Jewelry!
St. Thomas is famous for its luxury Jewelry which you can get at quite reasonable prices because of no sales-tax. That's right! St. Thomas has no sales tax! In fact, many people prefer to buy their engagement diamond rings from here. This is because the exquisite and high-quality diamonds available here cannot be found elsewhere. Also, the wide variety of all shapes, colors and, sizes of diamonds all in one place makes it easier to find your favorite luxury diamond jewelry. Even if diamonds are not at your list, local jewelry store are worth visiting. As you'll get to discover a treasure of unique jewelry pieces and handcrafted items which are a specialty here. From fun traditional bracelets to luxuries rings, St. Thomas Jewelry is an experience you should never miss!
From an extensive collection of exquisite Jewelry, Renaissance Jewelers have prepared a list of three most famous types of Jewelry. And we are pretty sure that you might want to update your appearance with them upon your next visit.
St. Thomas Larimar Jewelry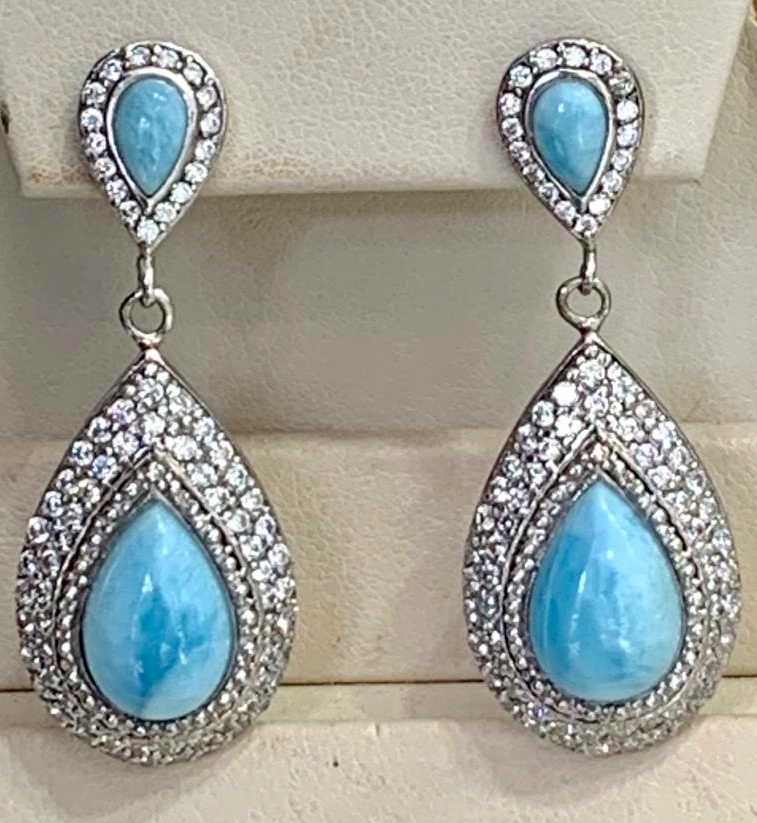 Do you want to buy a jewelry piece that captures the beauty of the Island in a unique way? Then larimar jewelry is your match. Larimar is an extremely rare variety of pectolite mineral with all the charming blue color of Caribbean sky. This semi-precious stone has been found only in the Dominican Republic. But since St. Thomas is the major Jewelry hub of the Caribbean. You can also find exclusive Jewelry made from this beautiful gemstone here as well.
The larimar comes with many different shades of blue color including green-blue, sky-blue and white blue. This amazing color variation is a result of copper locked inside the pectolite crystals. Larimar jewelry also believed to have some strong healing properties and drive good luck to the wearer. So, don't forget to get your larimar Jewelry with incredible charm and cool metaphysical benefits from the Island.
St. Thomas Tanzanite Jewelry
Larimar is no doubt, a stone that can offer simplicity and elegance at the same time. But if you are into something sparkling but don't want to forgo the blue color, consider buying tanzanite Jewelry. Tanzanite is undoubtedly a true Caribbean gem having the blue shades from the endless Caribbean sky and crystal-clear water. Renaissance Jewelers is a renowned store in St. Thomas with the largest collection of Tanzanite Jewelry on the Island. With so much exciting Jewelry pieces to choose from, it will be hard for you not to get one. Especially if it's your first tanzanite jewelry. Also, such a unique piece of jewelry will keep your island memories alive even long after returning back home.

Loose Diamonds in St. Thomas
Renaissance Jewelers has one of the largest selections of loose diamonds in the entire Caribbean. We carry traditional cuts as well as the exotic cuts like bezel diamonds. If you are looking to upgrade your diamond we also accept trade ins and can set your new diamond while you shop or spend the day at the beach. Not, sure what diamond you might want. Check out our page on diamond shapes.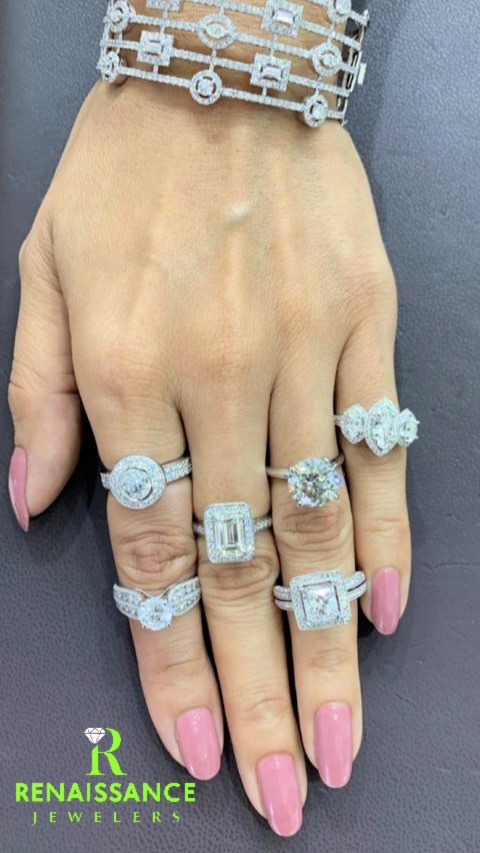 St. Thomas Hook Bracelet
The tale of traditional St. Thomas jewelry items will be incomplete without the Virgin Islands Hook Bracelet. The islanders have worn it for centuries with some special sentiments attached to it. Although, it's originated from St. Croix, unlimited designs and with the basic hock theme are also available in St. Thomas. This bracelet actually has an interesting story behind it. As the legend says that the wives of seafarers used to wear such a hook bracelet to show their love. If you wear it in a way that the hook is pointed towards the heart, it means that you're taken. While wearing it away from the heart means that you are single.
You can find a variety of Virgin Island Hook Bracelet at our store with amazing embellishments depicting the Island's charm. The picture below is only a tiny sample of what we have in the store.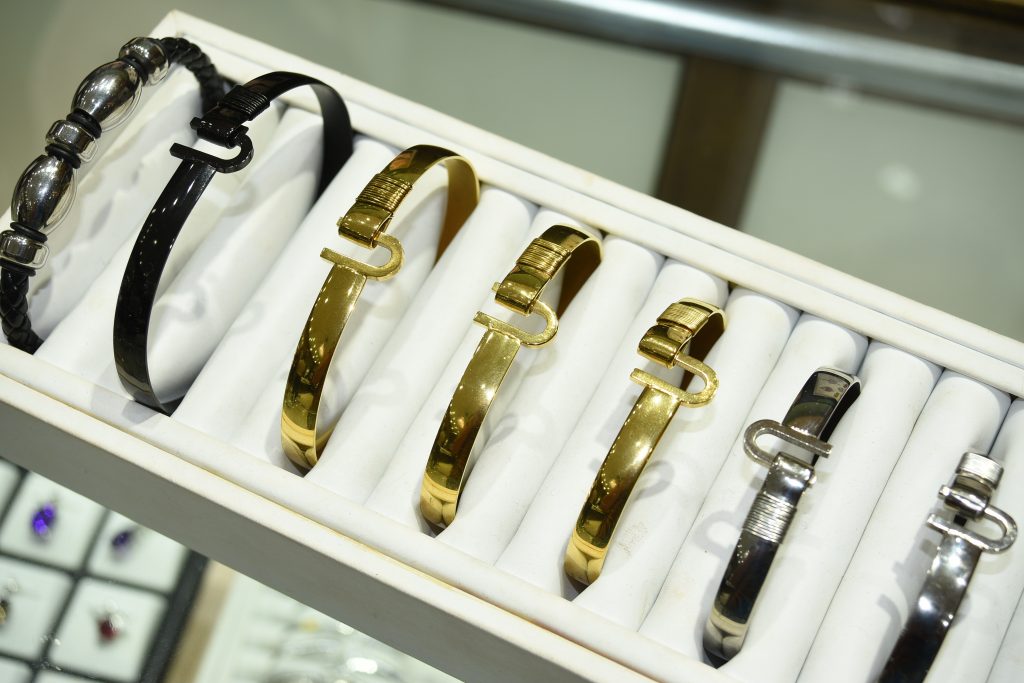 Shop Tax Free Luxury Jewelry at Renaissance Jewelers
Renaissance Jewelers is a trusted jewelry store serving the locals and cruise vacationers for the last 15 years. In fact, Renaissance Jewelers has a 5 star rating on all social media! We are home to exquisite traditional as well as fashion-forward jewelry. With our wide collection of diamonds, tanzanite and, other precious gemstones, you can easily take back a truly mesmerizing piece. And be sure that you are buying a piece that will remind you of the beautiful time you've spent here. For more information about tax free shopping on St. Thomas check out Visit St. Thomas.