So, you came here looking for ruby jewelry in St Thomas. Natural and high-quality ruby jewelry is actually difficult to get as it's among the rarest and most demanded gemstone. But with Renaissance Jewelers, you can put all your worries aside. Because we are the most trusted jewelry store in Saint Thomas with an amazing collection ruby jewelry. In fact, we doubt you will find more stunning rubies St Thomas. We invite you to discover our ruby jewelry with enchanting colors and striking looks. Renaissance VI is also the only five-star rated jewelry store on all social media Trip Advisor, Facebook, and yelp.
Ruby – with all of its shimmering light and eye-catching blood-red color – is a sought-after stone for centuries. This extremely valuable and commanding stone have been much coveted by people in different eras in the past. Even today, rubies are becoming increasingly popular for making engagement rings and other jewelry items. Ruby with all of its breathtaking beauty is also viewed as a symbol of passion, love, and royalty.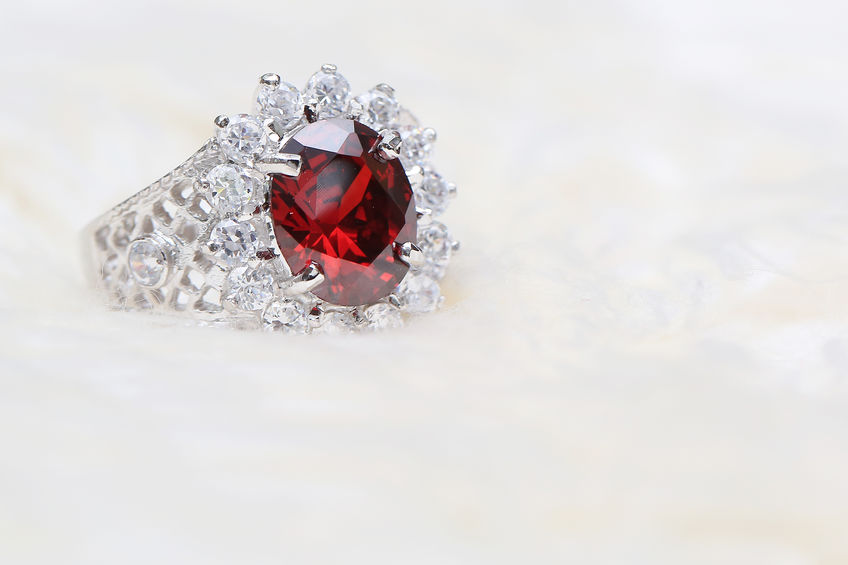 Rubies belong to the corundum mineral family same as sapphires. And share the same properties of hardness, durability and radiant warmth of color. But the only difference is that red corundum is classified as a ruby. While other colors of this mineral (yellow, pink, and blue) are called sapphires. That's why ruby represents a deep richness of color no other red color stone possesses.
This precious gemstone is also the rarest among the big three – diamond, sapphires and emerald – That's why everybody loves to find original rubies with their dazzling brilliance and to make stunning pieces of jewelry.
Ruby Jewelry Gifts
Ruby is the birthstone of July babies, so this vibrant stone makes a popular choice as a birthday gift. For instance, ruby necklace or ruby earrings are some exciting gifts that can be given to people born in July. Ruby Jewelry is also a traditional gift for wedding anniversaries especially 15th and 40th anniversary.
Also, ruby is among the most romantic gemstones of all time. Its blood-red color is actually the color of true love. So, you can also present stunning ruby studs or ruby earrings to the love of your life on Valentine's Day. This will also be a reminder that your love is as deep as the striking color of their ruby jewelry.
Also, these sparkling rubies make an eye-catching alternative for the engagement rings. If you are looking for something non-traditional but attractive at the same time, ruby is your stone! It can be used to make amazing combinations such as a ruby center stone with diamond pave or halo settings.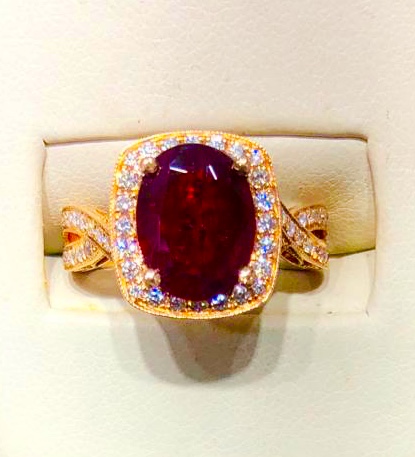 Where to Find Stunning Ruby Jewelry St Thomas
Ruby is among the most precious gemstones on the planet and also preferred over diamonds due to its rareness, intense fiery glow, and spiritual properties. So, you need to make sure that the ruby jewelry you are buying is really worth your money.  Renaissance Jewelers is a trusted ruby jewelry store in St. Thomas. Here you can purchase all shades of this glowing gemstone from pinkish-red, purple-red and orange-red with red being dominant.
We also offer high-quality, unheated rubies to give a passionate punch to our ruby earrings, ruby rings, and ruby necklace. Renaissance Jewelers also take pride at designing exclusive ruby Jewelry pieces through its master craftsmanship. We do this to supply such stunning ruby jewelry items that perfectly match your jewelry expectations.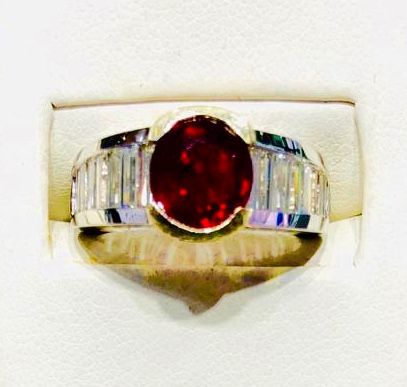 If you are planning a visit to St. Thomas, don't forget to check extraordinary ruby jewelry collection at Renaissance Jewelers. Our expert designers only work with finest rubies to develop ruby rings and pendants, displaying an internal fire and glow. Also, we offer a free gift to everyone that visits our store. Simply, complete the simple form and be prepared to receive your dazzling gift upon your visit to St. Thomas!