Vacation is meant for fun. In the beautiful United States Virgin Islands, this means relaxing on the beach, boating, exploring local cuisine, and shopping at island vendors. St Thomas, in the USVI, is known for its exquisite jewelry with duty free prices. That mean tax free jewelry! St Thomas is an ideal place for jewelry shopping from local, family-owned shops such as Renaissance Jewelers. From the perfect engagement ring to a memorable souvenir. Jewelry shopping St Thomas is one of the main reasons people come the the island and is a favorite stop for cruise lines.
Types of Jewelers You Will Find in St Thomas
You will find dozens of jewelry stores in St Thomas. From well known chains like Tiffany and Rolex to start ups and family-owned jewelers. If you shop at a local business such as Renaissance Jewelers, you can find handcrafted pieces with loose diamonds and tanzanite featuring impeccable quality. You'll also find the infamous island hook bracelet.

Sure, if you want a Rolex, go to Rolex but if you are looking for amazing local jewelry there is only one choice for unparalleled customer service and experience.
Duty Free and Tax Free Jewelry Shopping St Thomas
When you purchase duty free jewelry in St Thomas, you are exempt from expensive taxes that would otherwise apply if you bought the jewelry in your home country. "Duty" is the tax you pay to bring the jewelry across international borders. This means that it is tax free in St Thomas. You may have to pay a tax upon returning to your home country, but since St Thomas is part of the USVI, you will pay no tax if you are returning to the mainland United States. Purchasing jewelry duty free in St Thomas is a logical way to buy beautiful jewelry without adding tax value. So if you have been eyeing a Citizen Watch, want to upgrade your diamond or looking just to treat yourself St Thomas is a jewelry mecca.
Best Jewelers in St Thomas
There are several great jewelry stores in St Thomas but there is only one that has a five star rating on all social media sites after 15 years in business.
Renaissance Jewelers, located at 5175 Dronningens Gade, Ste. 2 in St Thomas, has been handcrafting jewelry since 2004 and features top notch customer attentiveness. In fact, they are the ONLY jeweler with a 5 star rating on EVERY social media site, Yelp and Tripadvisor. That's really hard to do after 15 years in business.
In addition to their amazing customer service, Renaissance Jewelers has one of the largest selections of loose diamonds. And every diamond is painstakingly evaluated for the four C's: Cut, Clarity, Color, and Carats.
Tanzanite is another one of the store's speciaties. The gorgeous blue and violet gemstone, is popular for its vibrant color and glittering shine.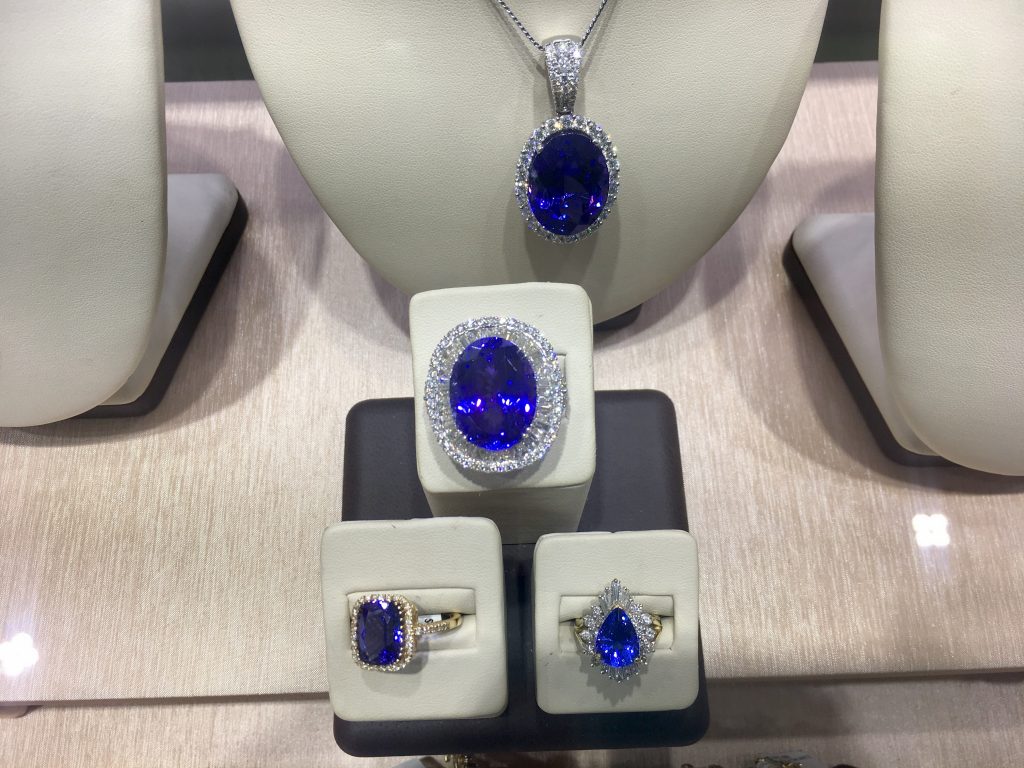 For the best jeweler in St Thomas, experience Renaissance Jeweler's vast selection with incredible quality. Call us at (340) 774-4510 or get in touch if you plan on visiting us during your St Thomas vacation, want to commission a custom piece, or have any questions. We look forward to showing you the best jewelry selection that St Thomas has to offer.
Free Rum Punch
Shopping around St Thomas you will work up a thirst in the hot sun. Step inside to cool off with a rum punch, beer, water of soft drink while you peruse of huge cases of jewelry. In fact, we have a full bar!