Emeralds are the birthstone of May babies. When you are looking for Emeralds in St. Thomas look no further than Renaissance Jewelers. When I think of Emeralds I always think of the movie Romancing the Stone.  Remember that giant green emerald?

Renaissance Jewelers has a large and sophisticated collection of emerald jewelry at our store in St Thomas. Every day, we receive a huge flock of cruise passengers who visit our store to see our latest and most stunning jewelry collection. Visitors love our tanzanites and a emerald collection.
Emeralds are synonymous with dark rich deep green. And they are symbols of hope and peace. In addition, the beautiful and elegant emerald is always in fashion. Emeralds have their own quality depending upon the mining location and quantity of color particles present. Most of the mined emeralds are small and often contain bubble inclusions, which instead of halting its beauty, gives the emerald its identity and more charm.
How to Spot Great Emeralds in St. Thomas
When looking for an emerald you are looking for quality. Renaissance Jewelers carries only the highest quality of emeralds. Look at the hue of the emerald. Look for a deep tonal color. You want a emerald with a strong saturation. Next consider the cut. You should expect inclusions. You can check the inclusion ranking from the GIA. Be sure to ask about the oiling process and other clarity enhancements.


Emeralds at Renaissance Jewelers St. Thomas
Our inventory is constantly changing as some days we have as many as 20,000 cruise ship passengers on our tiny island.  While we would love to show you everything we have in stock it is truly impossible but everything on this page is currently available at our store, except for the El Corazon of course.  We also have loose stones and can help you design your dream jewelry piece.

Trusted Source for Emeralds St. Thomas

We are a trusted source for emeralds in St. Thomas. We want to ensure you are thrilled with your purchase. At Renaissance Jewelers you are not just a customer, you are friends. We always warmly greet our visitors and if you mention you found us on the web we will give you a free gift just for stopping by. We aim to maintain a  long-term relationship with our clients as we know your referrals are vital to our success. Customer feedback has always been our strength.  We have a 5 star rating on Facebook and TripAdvisor.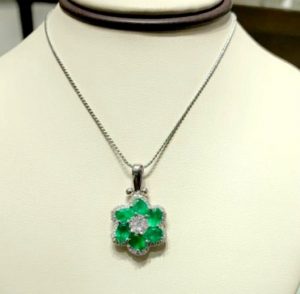 If you want to know more about our emeralds please send us a message on our contact page with the type of emeralds you are looking for and we can send you details and pictures.